High in the San Jacinto Mountains, nestled among impressive rock formations and towering pines, sits the small town of Idyllwild, California. Originally founded around a hospital for respiratory disease in the late 1800s, the town in Riverside County has transformed over the years to become one of America's Best Small Art Towns. Flanked by Tahquitz Peak, Suicide Rock, and Mt. San Jacinto, Idyllwild is also the beloved home of architect Dennis McGuire. McGuire is known for his unique architectural style that emphasizes the natural elements that act as a backdrop for his designs and he continues to create structures that accentuate Idyllwild's beauty to this very day. Let's explore the life and career of Dennis McGuire and investigate how his life's work has been influenced by all that Idyllwild has to offer.
Beginning
Like many renowned architects, Dennis knew from an early age that constructing things was his passion. Having exhibited an early enthusiasm for whittling away at his parent's wooden furniture (much to their chagrin), his father chose to cultivate his young son's creativity rather than punish it. So, young Dennis was gifted colored pencils and a sketchbook, and the rest is, as they say, history. At this same time, Dennis was also often able to explore a particular wild canyon in West Seattle and continues to carry this lifelong fascination with Nature and the sense of "freedom" that it inspires.
When he was seven years old, the McGuire family moved to San Mateo, California, about 20 miles south of San Francisco. Young Dennis would spend his free time building structures in the family's backyard, and on rainy days he would spend time drawing what he intended to build next. It was then that Dennis' father explained what an architect does for a living, and that was when Dennis decided on his life's ambition.
Finding inspiration
When the family moved to La Cañada Flintridge, a suburb of Los Angeles located north of the city, Dennis entered his high school years. Someone advised him that if he intended to pursue a career as an architect, then it might be a good idea to study the life and works of Frank Lloyd Wright. Wright, the most celebrated American architect of the 20th century, is known for conceptualizing the idea he dubbed "organic architecture", which means to design buildings that are in harmony with humanity and the environments in which the buildings are built. McGuire studied everything from Wright's acclaimed career. But it was Wright's residential work that he found most inspiring, especially Wright's Fallingwater. Built in 1936, Fallingwater was cantilevered out over a waterfall in southwest Pennsylvania, and is unique in that Wright designed the home to appear as though the house is hovering unsupported above the waterfall below. Dennis was fascinated by Wright's determination to meld his architecture with the natural setting surrounding it, and so set out to incorporate this inspiration into his own work.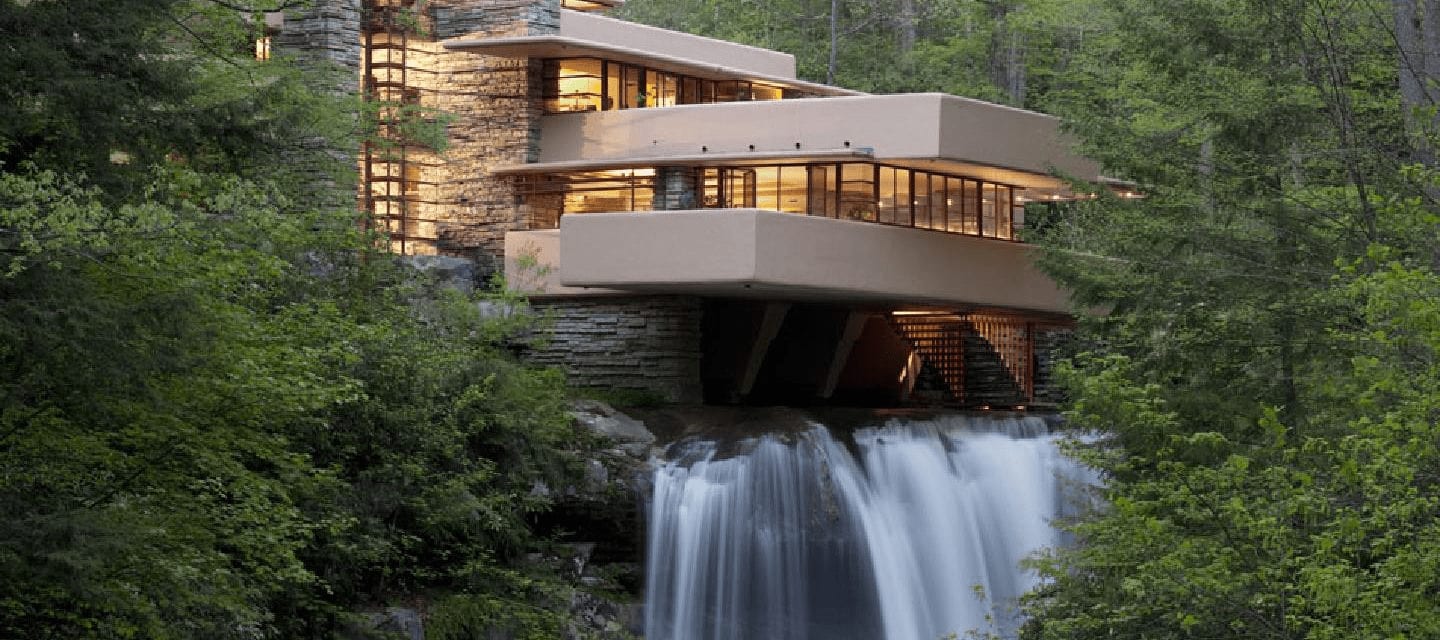 Credit: fallingwater.org
Inspiration garnered from Wright's amazing work proved fruitful many years later. The clients asked McGuire to design a house for where two cascades meet, where conjoined they flow into an existing pond, created by an existing stone dam, over which flows a third cascade, thus the title for the house: Falling WaterS, a homage and challenge to Wright--he had one waterfall to play to, the architect here had three!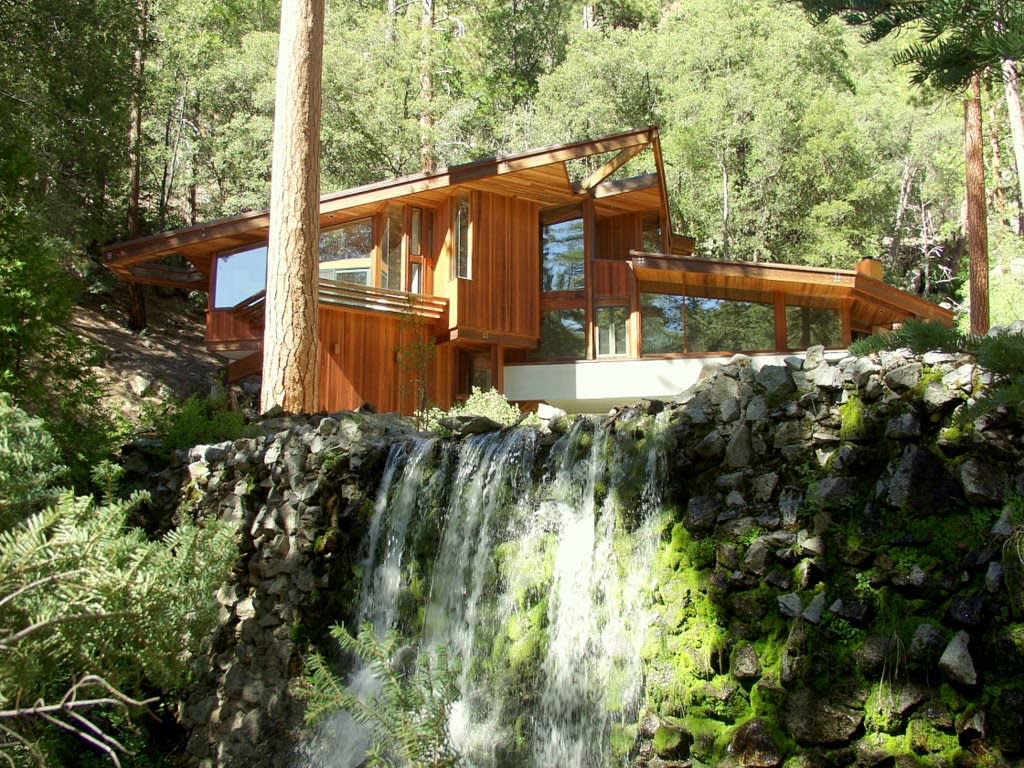 The start of a career
While in high school, young McGuire set his eyes on his future as an architect. However, it became obvious that America's involvement in Vietnam was going to expand. After turning 18 and now eligible for the draft, McGuire chose to register as a conscientious objector, to avoid being part of a war that he couldn't support. It was during this time and while still in high school that one of Dennis' teachers hired him to design her family's home in Linda Vista. This opportunity spurred him to attend the University of Southern California School of Architecture on a partial scholarship. However, the school's curriculum was not compatible with what he had in mind for his architectural studies.
Luckily, McGuire discovered what he was looking for in the Architecture School at California Polytechnic State University in San Luis Obispo, which allowed him to spend much of the free time he could steal exploring the gorgeous coastline between there and Big Sur, reinforcing his love of the natural world. After graduating in 1970, McGuire met with the Draft Board in the San Fernando Valley to plead his case as a conscientious objector. He won his case and he spent his two years of alternate service working for the United Cerebral Palsy Foundation, then called "the Spastic Children's Foundation." During his last year working with the Foundation, he was commissioned to design two homes, one for outside of Arroyo Grande and one for near a small town in the San Jacinto Mountains, Idyllwild.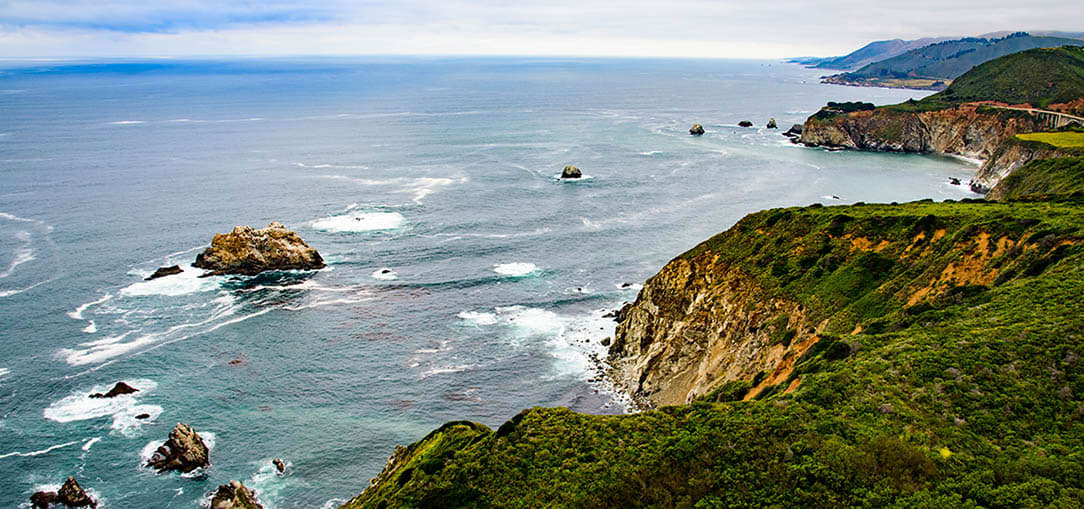 Credit: hertz.com


Making Idyllwild his home
The home commissioned for Idyllwild was for June Hughes, an elementary school teacher from Los Angeles. Thinking that he was headed to join a crew of workers on the day after Thanksgiving in 1973, McGuire arrived to discover that he alone would be assisting the builder Art Cole in constructing the home. Although Cole lacked the skill of interpreting blueprints, he was more than skilled at rigging pulleys and winches off the trees that surrounded the building site, which was primarily a granite cliff. The small house was a challenge to build, but the experience was a rewarding one. And by the time the cabin was finished, Dennis had received commissions for two more Idyllwild homes and another for outside of Grass Valley. With every project he elected to celebrate the natural surroundings, the ultimate environment of the home. And so, having such a perfect opportunity to bring his dreams to fruition, Dennis laid down roots in Idyllwild. After witnessing the commercialization and overpopulation of other once-charming communities like Big Bear and Lake Arrowhead, McGuire was determined that Idyllwild not meet the same fate. He banded together with some passionate locals and sympathetic Riverside County officials to set limitations to growth and commercialization, to prevent that phenomenon from occurring in Idyllwild.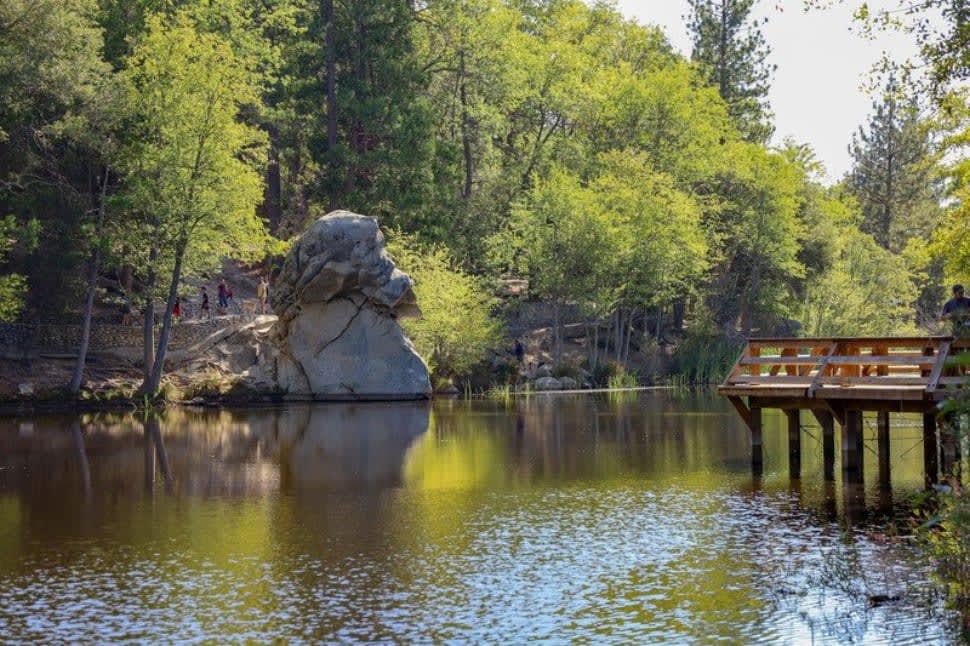 Credit: travelawaits.com
A career full of accomplishments
More than 40 years later, McGuire has completed over 60 projects. Although most of them are to be found in and around Idyllwild, other notable structures live along the Northern California coast, in the San Francisco Bay area, on the eastern shores of Lake Tahoe, and in Los Angeles and Orange Counties.
Let's take a look at some special highlights of McGuire's career in Idyllwild. Featured in the Desert Sun for the Mullen/Brase family of Palm Springs is this impressive Idyllwild home, that features windows that project at a 45-degree angle from the body of the house, to meet where a visitor can stand looking out through a glass to glass corner, allowing the owner or the visitor to feel that they are not just inside but outside too, hovering above the granite shelf below. He even went so far as to incorporate a sizable existing granite outcrop into the home and designed a one-of-a-kind coffee table made from a thick section from the base of a cedar tree.
Another favorite is the Shein/Petrol Residence. The home is accessed between two granite boulders, is laid out around a large native oak, and it is currently listed at $2.2 million. The client gave the architect a choice of "favorite" from among 3 wonderful parcels. Of course, he chose the 22 acres at the base of Suicide Rock, with views up its face and up the face of Tahquitz Rock. And once inside the house, there are views out and up to the mountains rising everywhere!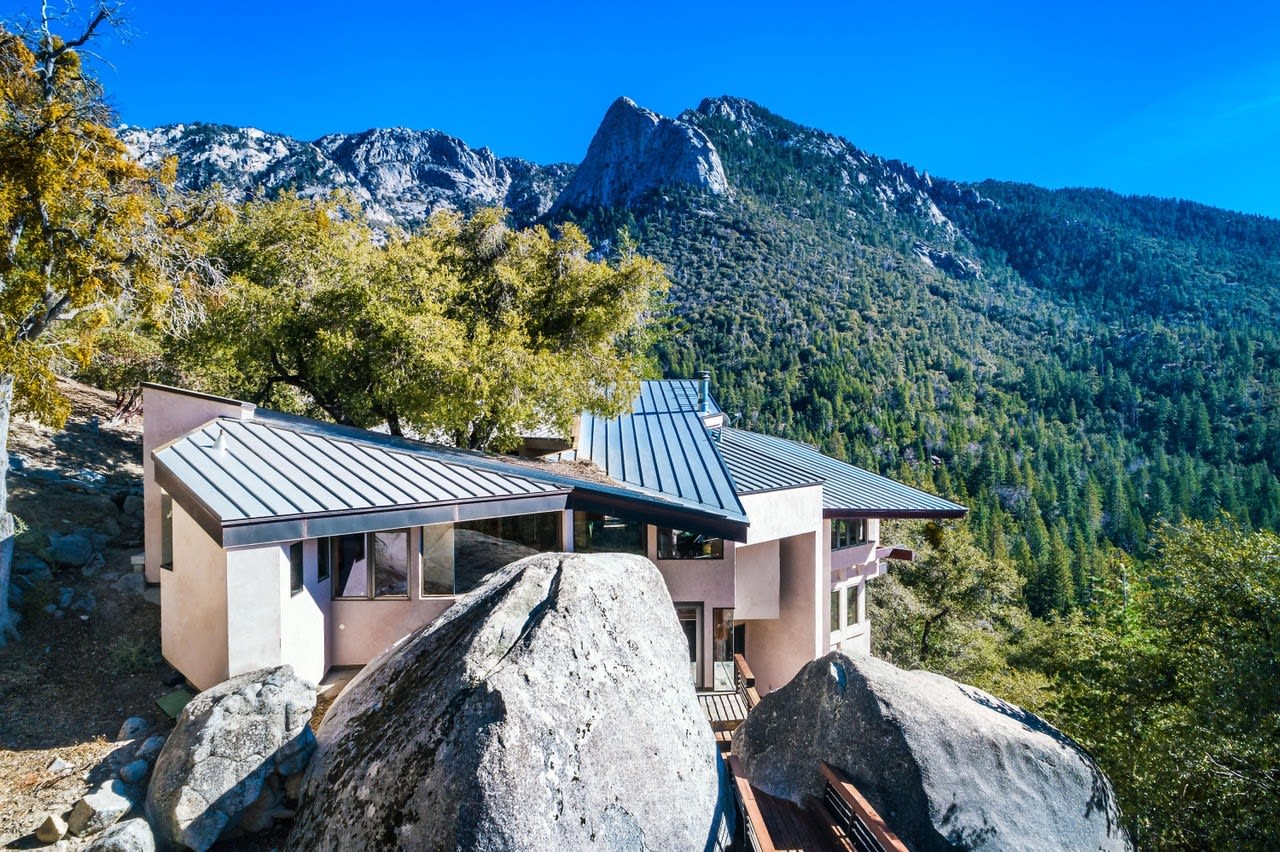 Also central to his Idyllwild work is the Tweedt family home, nicknamed the "Glowing Lantern" by the owners--after viewing the house lit up against the night sky. Completed in 2004, the home is a 4-bedroom, 3-bathroom masterpiece with a "floating" staircase that leads you to the second story above. Another McGuire creation here is The Abbott House, constructed above Marion Creek in Idyllwild's Fern Valley. This 2-bedroom, 2-bathroom home features a lower-level art and sculpture studio. With the stunning South Ridge forest as a backdrop, The Berman/Urias House is known for how it is anchored to the granite outcrops that were chosen by the architect and the Clients to be where the house would be perched. The home features an operable tram that transports you to the house, though there is also now a driveway that can get you there. The home features a bridge/gallery, a sauna room, a hot tub, a wine cellar, and a small guest cottage.
Furthermore, you can consider spending a couple of nights at one of the McGuire's designs that is used as an Airbnb. Dubbed "the View", it is host to a spacious deck, hot tub, wood-burning fireplace, and enough space to accommodate up to 10 guests. Much the same can be said about what has been dubbed "Big Rock Creek Lodge", along the upper reaches of Strawberry Creek (Dennis even designed all the copper lighting elements in the cabin). With so many treasures to be discovered in Idyllwild and along the California coast, you won't have to go far to enjoy one of McGuire's designs for yourself.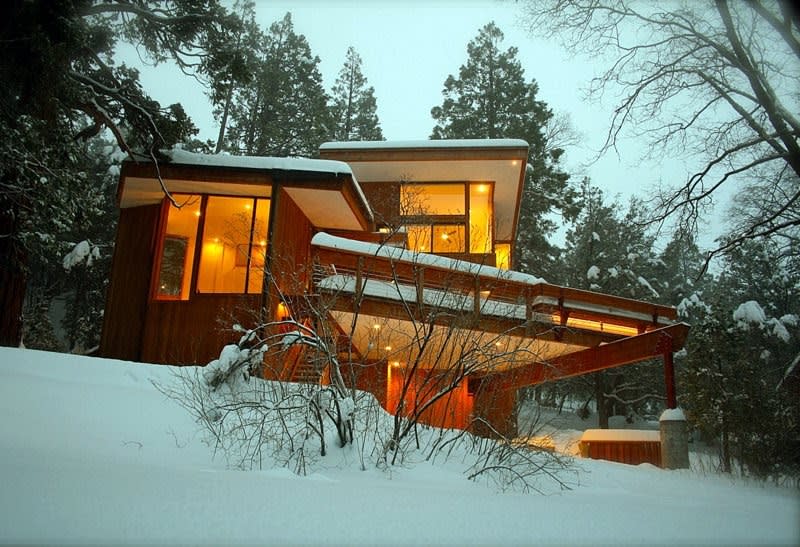 Credit: glowinglantern.com
Having placed his architectural touch on so many beautiful mountain homes, Dennis McGuire has achieved an incredible amount in his career as an architect. With his passion for designing homes that unite the structure itself with adjacent natural elements, he has added a unique flair to the design ideology originally made prominent by Frank Lloyd Wright. Having learned more about McGuire and his exceptional homes, can you picture yourself making a one-of-a-kind McGuire design your new home? If so, be sure to contact Bill Cochran or Daniel Miracle with the Cochran & Miracle Group today to explore the best of Idyllwild real estate. Daniel and Bill are well-acquainted with McGuire both professionally and personally, and are sure to aid you in working closely with the architect to help you find the Idyllwild home of your dreams.

Coda: Falling Waters viewed from above the Falls