Idyllwild is a stunning mountain town nestled in the San Jacinto Mountains. This quaint rural town is known for its beautiful hills and outdoor recreation with lush pine forests and panoramic mountain views. When seeking Idyllwild homes for sale, look no further than this list. Whether you're a couple who luxuriates in a spacious home or a family who loves a natural setting, these homes cater to everyone's needs.

Drink your morning coffee in a tranquil environment. Go for long hikes and discover nature's bountiful gifts with your family. Make lasting memories in one of these unparalleled, affluent estates. Whatever your goal, this list of Idyllwild properties will show you that refinement is attainable anywhere, even in mountainous terrain.
For Sale
55290 Forest Haven Drive
An estate that is truly a sight to behold, this mountaintop home rests on a thirty-acre plot in the San Jacinto Forest. Beautiful old oak trees and massive boulders surround this posh property. With a sublime view of Lily Rock, this home features sky-high 26-foot ceilings with windows to match. Boasting three bedrooms and four bathrooms, the 3,320-square-foot domain makes for a majestic family home. Built just over 20 years ago, this gated community home is an example of Dennis McGuire's architectural design. This home has a huge living room with Lautner bookshelves, substantial bedrooms, an extra multipurpose room, three decks, a game room, and an indoor/outdoor waterfall. The master bedroom has an en suite bathroom complete with a sunken tub, steam shower, bidet, and heated floors. Natural slate floors and plaster walls fit right in with the mountainous landscape. With custom Poggenpohl cabinetry with metal glide boxes, a Sub-Zero fridge, gas range, double oven, and heated floors, the kitchen is as cozy as the memories you'll create there. The living room has a wet bar with a Sub-Zero refrigerator, a wood-burning fireplace, and built-in seating for scenic views of the area's magical landscape. This incredible retreat is on the market for $2,200,000 and is the secluded paradise of your wildest mountaintop dreams.
52522 Double View Drive

Built with impeccable craftsmanship overlooking a copse of stunning greenery, this property is one-of-a-kind. The panoramic views are some of Idyllwild's most enviable, and an easily navigable open-concept floor plan makes this property highly coveted. Soak up the breathtaking views through tall windows and French doors leading to a back deck that peers out into the mountains — and the best part? Its west-facing windows allow residents to enjoy every sunset. 

With three bedrooms and two bathrooms, this generously sized house is plenty big enough for the whole family. Custom cabinetry and high-end appliances give the kitchen a luxurious feel, and the living room touts a fireplace perfect for warming up in the wintertime. No matter the season, this property's location, amenities, and peaceful ambiance are not to be missed.
54520 S. Circle Drive
A domain as exquisite and intriguing as you are, this treasure is magical and presents you with an opportunity to create more magic with your family. One of the few properties in Idyllwild with Strawberry Creek running through it, this estate is genuinely remarkable. With its generous 6,027 square footage, this two-story home has as much charm as it does amenities. Boasting four large bedrooms and bathrooms, the main house is nestled among gorgeous gardens. There is ample room for entertaining guests beside the solar-powered pool and creek adjacent to the BBQ. You'll feel like you're outdoors in the enclosed spa within the sunroom, where you can relax, reflect, and take in the brilliant surroundings.

In addition, there is a second building with a sizable office space with a three-quarter bath, sauna, and safe room. Next to the office is a three-car garage with its own workshop, art studio, and laundry room. Atop the garage is an apartment with two bedrooms, a bathroom, a living and dining area, and a full-sized kitchen. 

If you thought this home couldn't get better, it does. It exudes a secluded feel while only a few minutes from town and has a pool and jacuzzi to seal the deal. At $2,400,000, this home could be the welcome oasis that you and your family have been looking for. Whether you're planning to rent this out to affluent vacationers or wish to provide your family with an upscale retreat from city life, calling this property yours brings endless possibilities.
53990 Linger Lane
Privacy meets pristine views in this gorgeous Craftsman-style home. With an accessible, single-level floor plan, this three bedroom home touts a spacious, open concept, 18-foot ceilings, and plenty of windows to soak up the one-of-a-kind view. The panoramic scenery is immersive and creates a tranquil atmosphere, and the wraparound deck makes soaking up the views simple. Enjoy delicate Art Nouveau touches throughout the home, granting the property a distinguished feel, and the construction's high quality of design, curated specifically to be resilient to potential natural disasters. Find your solace in solitude in this sweeping Idyllwild estate.
Sold
26060 Wallace Way
A charming getaway from metropolitan living, this cabin has everything you desire in a retreat. This humble abode contains two bedrooms, two bathrooms, and all the space and amenities needed when entertaining guests. Downstairs holds the guest bedroom, complete with its own bathroom with a clawfoot tub. The master bedroom upstairs provides versatile space that can be used for a loft, office, or whatever purpose you choose. The main bedroom chamber has grand closets and a washer and dryer. With two vanities and a rain shower with column massage jets, the master bathroom is indeed a luxurious space. A private deck atop a gorgeous rock formation adorns the master bedroom. An insulated detached garage and fenced dog run are ideal for your canine companions or a lush garden. At 1,502 square feet and sold for $520,000, this abode is the perfect cozy retreat.
54790 Forest Knoll Drive

A breath of fresh air, this mid-century modern home was built in 2008 and offers an array of new upgrades. Massive windows give spectacular views of Lily Rock and the majestic forest setting. At 1,980 square feet, this property has plenty of room for entertaining and enjoying a peaceful mountain lifestyle in style. The main level has an open floor plan where the living room and dining area lead into the modern kitchen. At the heart of the home, the kitchen boasts an island, Caesarstone quartz countertops, custom cabinets, and stainless-steel appliances. The vast outdoor deck sits in a wooded area, has glass railings, and wraps around to a smaller, more intimate patio. The lower level has a den, guest suite, an attached two-car garage, spa, adjacent lot, and a 13,000-watt generator with Wi-Fi regulation. This incredible property sold for $705,000 and brings a refreshing outlook on nature's treasures.
54611 Jameson Drive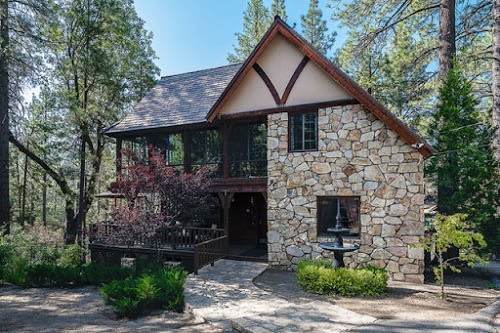 This two-story Idllywild cottage has energy-efficient double pane glass windows in the front of the building and 24-hour security for peace of mind. Featuring four bedrooms and three bathrooms, this gated home has a circular drive and garage. This elegant 2,700 square-foot home has hardwood floors throughout, vaulted ceilings, central air, and all the amenities desired for private, lavish mountain living. The kitchen has lovely views of the surrounding wooded area. A bonus solarium is just upstairs, making for an exceptional location to bask in the morning sun as you sip your cup of coffee. This estate features spacious covered decks on the front and side; the outdoor grill is ideal for family cookouts and having guests. Additional amenities include a basement, backyard, fireplace, and a security system. Sold for $760,000, this is the picturesque cottage you imagine when you think of Idyllwild.
25370 Scenic View Drive
Panoramic views and windows throughout, this stunning property sits in the treetops above Foster Lake. Vaulted ceilings draw the eye upward when you walk into the dining and living rooms. The living room leads to a sizable deck with more scenic views of glorious mountains. The large kitchen has new appliances. The den has a woodstove, powder room, and built-in desk. Two bedrooms are situated downstairs, a laundry room, a screened-in entertainment or multipurpose room, and an upgraded bathroom with heated floors. The master suite upstairs has two closets, more views, and a bathroom complete with a shower and large tub. Coming in at 1,798 square feet and sold for $513,000, this wooded Idyllwild cottage is a splendid getaway,
As you can see, the possibilities are endless when it comes to Idyllwild real estate. If you are pining for a magnificent property teeming with amenities or a quaint, humble abode, you can find it all in Idyllwild. When you are ready to call Idyllwild your home, reach out to Cochran & Miracle Group. We'll find the mountaintop property your heart desires.